Even before I became a fan of the horror genre (thanks in large part to my three years judging the Reading List Award), I always loved a good ghost story.  Creepy and scary – without usually being gory or bloody – they remain a favorite horror monster.  And while there are tons of excellent ghosts in horror proper, you can find them in a lot of other genres as well.  Here are some of my favorites, in no particular order:
   The Restorer
by Amanda Stevens
For me, this is a perfect combination of urban fantasy, romance and spooky horror.  Start with the heroine's profession and nickname: she restores old cemeteries and is known as the Graveyard Queen.  Now this would, on the surface, be a pretty stupid career for our heroine Amelia Gray, who is from a family especially susceptible to ghosts.  He father taught her to never acknowledge a ghost, or it could torment you forever. But she loves her job, drawn to the beauty of the old graveyards of the South. When she meets Detective John Devlin over a dead body (of the fresh kind) in a cemetery she is restoring in Charleston, she knows she should keep her distance from the man, who is haunted by the ghost of his dead wife. But they end up working together as more people are killed in Charleston. The sequels never captured the magic of this one, unfortunately.  Very gothic, and very good.
   Sparrow Hill Road
by Seanan McGuire
I am a Seanan McGuire fangirl, but she has legions so I'm in good company. While I can't imagine ever loving this new series as much as I adore the October Day books, this is a strong first introduction to a new ghostly heroine.  Rose Marshall died in 1952 and became an urban legend: the hitchhiking ghost, the phantom prom date, the girl in the green dress. She can never leave the road unless she finds and stops Bobby Cross, the man who tied her to this existence. But while she wants to stop Bobby, Rose also enjoys the pleasures that come with her situation, savoring each new experience and looking forward to the next cheeseburger at the next roadside diner.  Typically solid (and lovely) writing from McGuire, I will check in on this series again.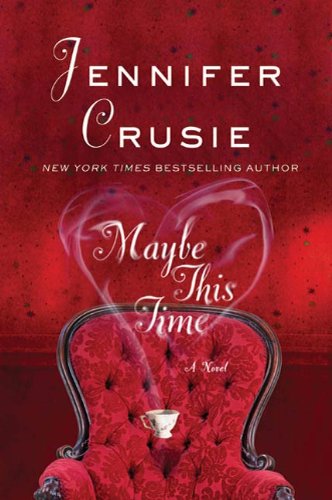 Maybe This Time
by Jennifer Crusie
With the rare exception of her collaborations with Bob Mayer, I love everything Crusie has ever written. I also loved her blog, where she talks candidly about the writing process. Although she has great heroes – often "beta" males and laid-back charmers not afraid to let a strong woman upstage them – it's her heroines that really shine.  They are strong, complex women who you just know you would want to be friends with in real life.  Andie in Maybe This Time is looking for a fresh start. She wants to break ties with her ex-husband North and turn a new chapter before it's too late.  But North manages to pull her back into his world when he convinces her to take care of an old house and the two orphans living there for a month. He'll give her $10,000 and she'll never have to dead with him again. (Yes, this premise is absurd – just go with it.) Of course it doesn't work out as planned.  The kids are neglected and hard to handle, and the house is infested with ghosts.  The ghosts are just one part of the typically awesome Crusie extended cast — some scary, some funny. The only flaw is North, who is not one of her best heroes.  But Crusie writes romantic comedy, not straight-up romance, and there is plenty to love here.
   She Walks These Hills
by Sharyn McCrumb
I feel like McCrumb's Appalachian-set Ballad series of novels are the kind of books that more people should know about. They evoke their setting so exquisitely; interweaving the history, folklore and music of southern Appalachia.  Some are set in the past, some in the present (but with the past always curling around) and they usually have a mystery element.  In this novel historian Jeremy Cobb is hiking the Appalachian trail, tracing the path of young pioneer woman Katie Wyler who was captured by the Shawnee after her family was killed. The ghost of Katie still walks the hills, seen by those sensitive to the spirits like Nora Bonesteel (a great characters in several of the Ballad books). Also loose in the woods is fugitive Harm Sorley. He killed a hated man and nobody really wants him caught. But a sheriff's department dispatcher thinks catching Harm will make her career. The stories of Harm and Jeremy echo that of Katie Wyler, mingling the past and the present in a powerful way. This one won the Anthony, the Agatha and the Macavity mystery awards the year it came out, and the mystery's not even the best thing about it. I fell behind in the Ballad books, but writing this reminds me I really need to read them all right now.
   The Haunting of Hill House
by Shirley Jackson
If you want to go classic scary ghost story, there is no better choice than Jackson's tale of psychological terror.  Parapsychology researcher Dr. John Montague has heard that Hill House is haunted, and rents it for the summer, inviting others to help him investigate the truth of the claims. He asks along his assistant Theodora and Eleanor Vance, a fragile young woman who has had a paranormal experience. The three, along with heir to the home Luke Sanderson, will stay in the isolated house and try to find scientific proof of the haunting. Mostly told from the perspective of the unreliable, alienated Eleanor, it gets darker and creepier the further you read.  Eleanor becomes very attached to the house, and you will wonder whether it is the house that is haunted, or the young woman.
   Shoeless Joe
by W. P. Kinsella
As we are just finishing up baseball season (I still love you Giants!), I couldn't forget my favorite baseball ghosts. Although many people have seen Field of Dreams, the classic movie they made from this book, far fewer read Kinsella. Although I love his short fiction best (he has a short story called "The Last Pennant Before Armageddon" in his collection The Thrill of the Grass
that will resonate with beleaguered Cubs fans like myself) this love letter to baseball is a fantastic read.  Ray loves baseball and is obsessed with the history of the game, especially the story of the 1919 World Series Black Sox scandal.  He hears voices that tell him to build a baseball diamond in his cornfield and he does, hoping it will somehow help his hero Shoeless Joe Jackson, pride of the shamed 1919 White Sox team. Magically, the field becomes a place where dead legends of the game could come and play once more the game they loved.  The baseball fan in me loves this book, but it also beautifully explores loss and regret and love and family. And baseball.
   The Ghost in Love: A Novel
by Jonathan Carroll
Jonathan Carroll is such a weird, wonderful writer.  He is able to do spooky, funny, sad and romantic, sometimes (like here) in the same book.  In his version of the death, ghosts are quasi-bureaucratic entities that usher us to the afterlife and might hang around in our bodies for a short period of time after our deaths in order to tidy up any unfinished business.  Usually an in-and-out deal.  Ling is a ghost who goes to the body of Ben Gould, who has slipped and hit his head quite badly.  He's supposed to die, but someone doesn't.  Ling is totally unsure what she's supposed to do now, but her boss tells her to stick around and watch Ben to see what happens while upper-ghost-management looks into the matter.  Meanwhile, Ling finds herself falling for Ben's girlfriend and Ben realizes that something is not right when he can talk to his dog Pilot as well as a ghost. It's all surreal but strangely compelling. Carroll is like a less-weighty Murakami crossed with Neil Gaiman.
The city of Colma is where the dead of nearby San Francisco were often laid to rest, land being at such a premium in the small city. With the dead far outnumbering the living, it was an inspired place to set a murder mystery chock full of ghosts. Michael Mercer is a rookie cop in Colma who rescues a kid who was drugged, bound and left unconscious in a cemetery as a prank. That night brought him to the attention of Colma's ghosts, however, and Mercer finds that because he has the rare ability to see ghosts that his jurisdiction just got a lot more complicated. The dead apparently need some law enforcement help sometimes, but Mercer has a tricky time writing up incident reports of ghostly crimes he knows he can never file. This has a colorful cast of living and dead characters, and balances well the supernatural with Mercer's more mundane relationships with his fellow cops, his girlfriend. It's sad and funny, with Mercer a bit hapless, a bit helpless, but appealing never the less.
HONORABLE MENTION:
Ghost Story
by Jim Butcher
In which wizard Harry Dresden has managed to get himself dead. In a way this is a big throwback to the early Dresden Files, as Harry tries to solve the mystery of who killed him. It's not my very favorite of the series, as Harry (being a ghost) is more passive than usual, but it's still a great book.
Greywalker
by Kat Richardson
I enjoyed this first book of a series about a woman who suddenly gains the ability to see and interact with the dead. In the deluge of urban fantasy with punky heroines, I didn't feel compelled to read further in the series, but the ghost bits were handled quite well and I know lots of people love this series to pieces.
The Haunting of Maddy Clare
by Simone St. James
This chilling ghost story blends in a rich historical setting of the post-WWI England and a touching romance as well.  St James is a gorgeous writer, and historical fiction fans should check her out even if they don't think they like horror.
The Little Stranger
by Sarah Waters
This is horror for the literary fiction crowd. (see Horror for Beginners post)
The Dead Fathers Club
by Matt Haig
A very unusual modern spin on Hamlet, with a young boy grieving the death of his father. When his father's ghosts visits the boy and asks him to avenge his death, Phillip is forced to plan the downfall of his own mother and uncle. But he still has to deal with the 6th grade. Quirky but great, and surprisingly funny.