Category:
Giveaway
UPDATE: Random Number Generator has been employed and the books have been claimed. Thanks for playing!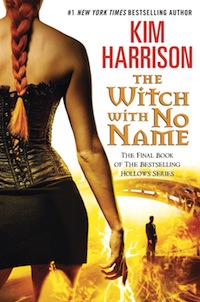 I am a lucky, lucky girl.  As part of my work reviewing for Library Journal, I get a lot of books sent to me.  As much as I would love to keep them all, I don't live in a TARDIS. So I've decide that occasionally I will cull the shelves and give away some books to readers of the site. Sometimes they will probably be galleys, but I thought I would kick things off with a lovely, pristine finished copy.  The Witch with No Name
is the 13th and last book in Kim Harrison's fantastic Hollows series.
Fans of the series have been following Rachel Morgan since she first stormed out of Inderland Security with a bounty on her head in Dead Witch Walking
and they will be anxious to see how it all ends for Rachel, Ivy, Jenks and Trent.  Although the proportions vary from book to book, the series is a blend of fantasy, mystery and romance. Author Harrison had a lot of loose ends to tie up after playing in the same universe for 13 books and she does a good job of giving long-time readers satisfying answers. With all the humor and heart fans expect, as well as high-stakes action, this is a great end to one of the best series in urban fantasy. I reviewed it over at Library Journal in the August 15 issue.
My thanks go out to HarperCollins, who sent me the book.  If you would like to enter to win this book, just be sure to leave comment by Friday, September 26 and I will use a randomly pick a winner.  Since I'll be mailing this out myself, this giveaway is limited to the U.S.