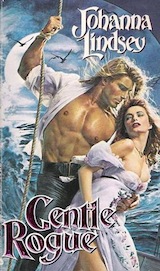 There's something irresistible about a pirate.  They live outside the law, they have ultimate freedom to sail about wherever they please, and they take what they want.  I mean, sure… those can be the characteristics of a fantastic villain as well. Romance novels are full of villains.  Alpha-type anti-heroes with what would be a poisonous level of testosterone in real life are perfectly acceptable in a romance novel, as long as they never hurt animals or children. And romance is the bastion of the misunderstood hero in villainous clothing. When pirates appear in romance novels (and good gravy, do they appear), the seeming villain often turns out to have a secret squooshy soft center, at least where the heroine is concerned.  Romance pirates are often trapped by circumstances in the piratical life, and perhaps all they need is the love of a good woman to retrieve them to the bosom of polite society.  Or maybe that loving woman will sail off happily over the horizon with her pirate.  Either way, there are probably dozens of pirate romances out there.  Let me introduce you to a few: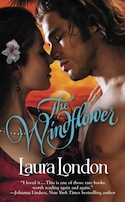 The Windflower
by Laura London Top Pick!
Written by husband and wife team Tom and Sharon Curtis, this is the one.  If you're only going to read one pirate romance (and yes, I know most people will never EVER read romance, much less pirate romance), this is the one to read.  I had heard about this book for ages on romance sites like Smart Bitches, Trashy Books and never could find a copy (paperback copies, USED, were selling for almost $100, if you can believe). I finally borrowed one, and got to read the story of Merry Wilding and the crew of The Black Joke. Merry is a terribly sheltered young woman as the novel starts in 1813. She plans a trip to Europe and sets sail from New York only to fall into the clutches of pirate Devon Crandall. Crandall thinks Merry is the mistress of his greatest enemy (cue the misunderstandings!) and yet finds her irresistible.  What seems like the epitome of Old Skool romance with the milksop innocent and the rape-threatening hero (oh yeah, that happens) is elevated by its execution and by the marvelous full cast of characters that the authors assemble on board this unconventional pirate ship. So, so happy this has been re-released and is available for new readers.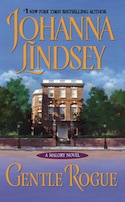 Gentle Rogue
by Johanna Lindsey
There is a whole wacky subgenre of romances where young women disguise themselves as boys and somehow STILL have romantic adventures (Heyer's These Old Shades is a classic). Here Georgina Anderson is trying to get home to America after a disastrous romantic embarrassment and takes the desperate step of disguising herself as a cabin boy aboard the Maiden Anne. Captain James Malory sees through her disguise but lets her stay in hopes of seducing her. Although the plot might be a little silly, the character and dialogue shine. And check out that Fabio cover above! It has a much more restrained cover these days.  Lindsey revisits Georgie and James (and pirates) with Captive of My Desires.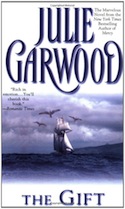 The Gift
by Julie Garwood
Wed at the age of four (yep — four!) to the Marquess of St. James to settle an ancient feud, Sara grows to young womanhood waiting for her husband to come claim her from her family home.  But it's not like Nathan was just waiting around for little Sara.  When Nathan final arrives, he is not what she expected, having lived as a notorious pirate for years. They have a long voyage home to get to know each other.  Women are bad luck aboard a ship, but Sara will win over the crew, and her husband. Vintage Garwood.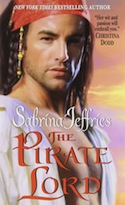 The Pirate Lord
by Sabrina Jeffries
Pirate Gideon Horn and his crew want to retire from the pirate life on a remote island paradise, but they are lacking one thing: women. Sara Willis is onboard a ship full of female convicts bound for New South Wales to document prisoner conditions. When their ship falls into Gideon's hands, it seemed like a perfect solution, right? But Sara forces Gideon to take her along as well and will fight for the rights of the captive women. This is one for those who love two strong-willed people forced to bend to each other.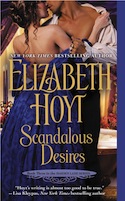 Scandalous Desires
by Elizabeth Hoyt
Third in Hoyt's steamy Maiden Lane series, it features two characters who have made appearances in earlier volumes: Silence Hollingbrook and river pirate Mickey O'Connor. In an earlier book Silence went to Mickey to ask for a favor to save her husband Will and ended up disgraced and estranged from Will. Years later Will is dead, Silence is a widow, and now Mickey needs her help. This series is unusual in that it looks at the Georgian period from a perspective other than the aristocratic ballrooms.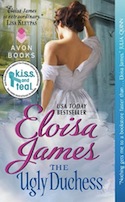 The Ugly Duchess
by Eloisa James
Theodora Saxby is not a conventional beauty, but she gets one of England's most eligible bachelors to marry her. James Ryburn was Theo's childhood friend, and it looks like they could be happy until she learns he wed her for her money. They separate, with James going off to be a pirate (!), but after seven years, he returns to try to woo her again. It might be a bit ridiculous, but this author has mad skills in pulling off big emotional stories. Just don't think about the plot too hard and you'll cry too. This is part of James' series that echo famous fairy tales.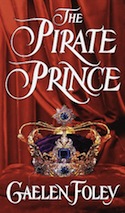 The Pirate Prince
by Gaelan Foley
Once a prince of the (make-believe) island nation of Ascencion, as a child Lazar di Fiore's entire family was slaughtered.  In swashbuckling style, he only escaped by jumping off a cliff. Fifteen years later, Lazar, now the captain of a pirate ship, returns to Ascencion to exact his revenge upon those who killed his family, the Monteverdis. Allegra Monteverdi pleads for the lives of her family and offers herself to Lazar as a captive if he will spare them. Damaged (but sexy) hero, warring families, how have I not read this one???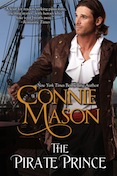 The Pirate Prince
by Connie Mason
Yep, there's another pirate prince. From the publisher: An exiled Turkish prince who must choose between his plan to save his mother from the hands of his enemy and the love of a beautiful Englishwoman who is also the object of his enemy's desire. This one seems polarizing, either 5 stars or 1 star on goodreads. But a captive Englishwoman intercepted on her way to a harem has enough shades of The Sheik
that it is bound to scratch some readers' romance itch.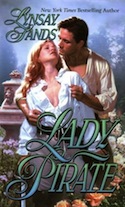 Lady Pirate
by Lyndsay Sands
Why not finish with a lady pirate? Valoree Ainsley has been masquerading as a male pirate but wants to give up the swashbuckling and provide a home for her crew on her English estate. There's one problem: she must marry by the age of 25 if she wants to inherit. Enter Lord Daniel Thurborne who ALSO must marry in order to claim his inheritance from his grandmother. This one works mostly for the generous doses of humor throughout.