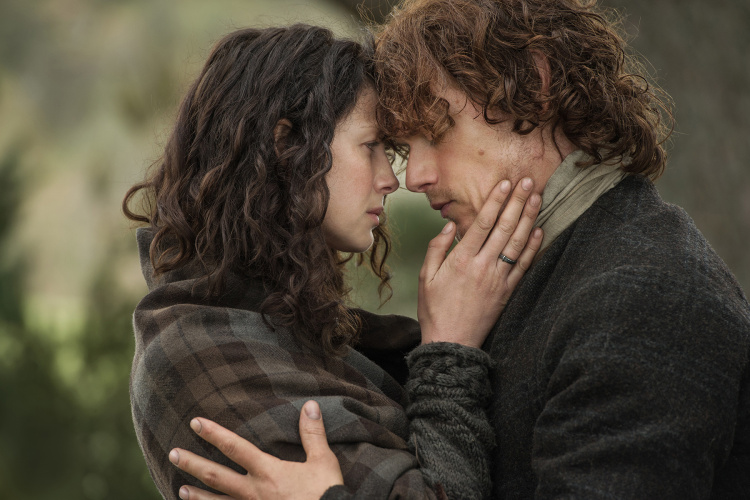 A little late for Valentine's Day and a little early for the return of the TV series Outlander (although maybe you are, like me, re-watching the first half of season 1 to get prepped!) I have been in the mood to do a romance post about time travel romances and other romances that play with multiple time periods. The reason I think these can be fabulous genre blends is that they can give the reader a hugely satisfying historical fiction experience — gorgeous details of the dress, food, and social norms of the past — but still give us a touchstone character from the present to ground the story.  The time traveler is our window on the past, sharing our own framework and able to look at the time period as an outsider, marvelling at the differences with our own time. They get to ask questions that a person from that time could not. The time difference is usually a great source of conflict between the heroine and hero and gives real and believable reasons for those misunderstandings that so often drive a romance plot.  I love this subgenre, whether it is found in the romance aisle or hidden in the fiction stacks. Let me know if I missed any of your favorites!
STRAIGHT-UP TIME TRAVEL (i.e. a man or woman travels – somehow – through time and falls in love with someone in the past)
What can I say about this book that I haven't said before?  Meticulous in its recreation of 18th c. Scotland (not to mention Claire's "home" era of the 1940s), the details of Jamie's world are so vivid that they transport you to the time.  And by having Claire as our guide, we get a modern-ish woman's perspective on the period.  She can marvel with us about the way of life among the clans of Jacobite Scotland. Then there is the romance, which is deep and true even though Jamie and Claire have more obstacles than most to overcome.  This is the time travel romance by which to judge all others.
I'm due for a re-read of this, but fear it will not stand up to my fond memories.  In the solidly ROMANCE pile, this is one of the touchstone classics of the subgenre. Set in the 1980s, it features the awkwardly named heroine Dougless, who loves the wrong man: a selfish jerk who treats her badly and abandons her in an English churchyard with no money and no passport.  She's sobbing her eyes out when a knight from the 16th century suddenly appears, summoned by her grief. But this romance has not one trip through time but two! After Nicholas (the knight) is returned to his own time, Dougless gets her shot at time travel as she lands in the 16th century. I remember loving this one and crying buckets of my own, although Dougless was never one of my favorite romance heroines.  This will have to be put on the TBR pile for a re-read soon.
I always hesitate to label this one a romance, as it doesn't have that perfect HEA that many romance readers require. But it is swooningly romantic.  Henry is a man suffering from a condition: Chrono-Displacement Disorder.  It causes him to jump uncontrollably through moments of emotional resonance in his own past, present and future.  This would seem to be a pretty big impediment to romance, but he meets and falls in love with a woman named Clare and builds a life with her despite his condition.  Told from both Henry and Clare's point of view, we see Henry meet Clare as a child and marry her and leave her time and again. But it was Clare that always moved me: her patience and love for Henry despite everything. It's a lovely, lovely book. Great Chicago scenery, too.  And Henry's a librarian, so there's that.
One of the things I remember best about this one is the mechanics of time travel. As part of a government experiment, Si Morley travels from modern day New York to the year 1882 by thinking himself into the past.  The experiment sets up a historic recreation of the time in an apartment in the Dakota and Si simply has to concentrate and he travels back in time.  While there he meets a girl, falls in love, solves a mystery and has to decide which time he belongs in.  I actually sought out the Dakota when I first visited NYC because of this book. The details sights and sounds of Victorian-era New York make this a classic, but I found the romance moving as well. There's a sequel, but it's not essential.
As much as I find Moning's Fever books embarrassingly addictive, I've never actually dipped into the Highlander series.  The first features Hawk, a warrior in 16th century Scotland and Adrienne de Simone, a modern woman transported to the past by a wicked fairy of some kind.  The sequels seem to repeat the themes of hot Scotsman and time traveling women and each seems more popular than the last so Moning must be doing something right.
Connie Willis does some of my favorite time travel books, all built on a shared premise that there is a scholarly department in a near-future London that uses time travel to study interesting periods from the past.  The other books in the loose series (including The Doomsday Book and Blackout/All Clear) are rather serious and even sad, but this is a truly fun read.  Ned Henry is an Oxford researcher who has been going back repeatedly to the 1940s to search for a hideous bit of Victorian known as the bishop's bird stump which future preservationists need for their efforts to restore a cathedral in Coventry.  Ned encounters a fellow time traveler, Verity Kindle, and must help her when she accidentally brings back something from the past.  I love this book like hell and yeah.
I first read Howard in her romantic suspense mode (Mr. Perfect
is a favorite), but this is a delightful time travel romance from her that adds a healthy dash of the damsel in distress that she does so well.  Grace St. John is a scholar who finds papers referring to a powerful Templar treasure.  When a killer comes after her for the documents she holds, she escapes into the 13th century, where there is a Scottish highlander sworn to protect the secrets of the Templars.  I loved Grace and her arc from mousey researcher to tough survivor and was perfectly willing to go along with her, even to the past.
Another modern woman ends up in medieval Scotland. Seriously, what's the deal with Scotland?  No one in these traditional romances seems to pop back to any other place on the planet! But this is another very popular series I have not tried. In the first of what looks to be about two dozen books, we meet romance writer Elizabeth Smith, who falls asleep on  park bench in New York city and wakes up in 13th century Scotland. Presumably romance and misunderstandings and hunky clansman ensue.
Like many, I saw the film with Christopher Reeve and Jane Seymour before I knew a book (originally titled Bid Time Return) existed.  But the books is even more moving, and surprising when you realize it is written by the same man who write horror novels like I am Legend! Richard Collier falls in love with a woman from a photograph (like you do) and uses extensive research on the woman and her era and a form of self-hypnosis (sort of like in Time and Again) to travel back to the late 19th century to try to find her. Fair warning: this is a sad one!
DUAL TIMELINES (the past, the present = two romances for the price of one)
In addition to all of these actual time traveling gems, there is a who other form of historical/contemporary romance combo that combines the genres through parallel or dual timelines. It's a kind of have-your-cake-and-eat-it-too technique that allows a writer to have a rich historical narrative but still keep a modern POV.
While this is more literary than many of the things on this list, it still has a romantic core that I love. Roland and Maude are two modern scholars researching different poets of the Victorian era. When a letter turns up that links their research subjects together, they join forces and learn of the love the poets shared. Meanwhile, despite a prickly beginning, Maude and Roland are growing closer and the two love stories unfold together. Of course, this is litfic territory, so the two romances do not both end equally happily. Byatt is a lovely writer.
Any lover of past/present romance combos has probably heard of the Pink Carnation series, now up to about a dozen books.  This series opener features Eloise Kelly, an American grad student who comes to England to research her dissertation about Napoleonic-era spies. She uncovers evidence of the true identity of one of the most elusive of the era's spies, the Pink Carnation and teams up with an Englishman descended from a family of spies to learn more.  We then get a parallel set of romances – modern Eloise and Colin and a romance they discover in the past.  These are a lovely sort of combo of modern breezy chicklit and historical romance, and if that's your kind of thing I recommend them for a fun read.
Most of Kearsley's books combine a modern and historical story with a healthy dash of romance and sometimes a sprinkling of fantasy like time travel or ghosts. In this one Carrie McClelland is a novelist struggling with writer's block until she takes a detour to Scotland.  While staying in a castle there she is inspired to write about the Jacobite rebellion of the 18th century but comes to wonder whether she is making her story up from her imagination or remembering it from her own ancestral past. Gothic and romantic.
Other authors who love past/present stories with a little (or a lot) of romance:
Kate Morton

Sarah Jio

Katherine Howe

Kate Mosse

Anne Fortier