I would like to take a moment to gush about one of my all-time favorite authors, Georgette Heyer. If you are a romance reader, you've probably heard of her, and may even have read one of her novels. They were very hard to find for years, but due to the re-issues from Sourcebooks, most libraries probably have a shelf of her books. And I would wager that if you checked the circulation stats of those books, you would be astounded  by the popularity of this author who wrote 50-90 years ago and whose have absolutely no sex scenes in them anywhere. Heyer fans are like a secret cult; a cult of which I am proud to be a member.
My house growing up was full – and I mean FULL – of books.  My mother was (and is) more than a bit of an agoraphobe, and she read every moment she could. Every room in the house had bookcases, and weekly trips were made to the local public library for more. No one ever directed my reading, and I was allowed me to read anything in the house. Although she is mostly a mystery fan, my mom also had a set of books that intrigued me from an early age.
They were hardcovers, with pastel spines and covers with ladies and men in elaborate old-timey clothes. I read one.  And then another.  And then all of them over and over and over again. They were the Regency romances of Georgette Heyer.
My mom owned about ten novels by Heyer, and I read the HELL out of those books. I probably read my first in my early teens, but I re-read them continuously until I left for college. Destroyed the dust jackets, spilled food on them, and if you don't think I'm kicking myself now that I realize they were first editions, you don't know me. While I read the occasional regency romances by other authors in high school and college, I always had a fond remembrance for Heyer's witty, clever novels where you were lucky if you even got to see the hero and heroine kiss at the end. When you read other historical romances after reading Heyer, it's becomes obvious how many romance novelists have been influenced by her. Heyer's witty banter, cross-dressing heroines, and especially her rakish heroes are all clearly present in the modern romance canon.  And few have done it better.
I went to a very serious college, and rarely would admit my genre fiction habits, although romances (as well as SF and fantasy) remained a lovely break from Thucydides and Kant. I had never met anyone else who read Georgette Heyer. After leaving grad school with my freshly minted MLS, my first public library job was at a suburban library in Illinois, and imagine my surprise when I was browsing the stacks and found my old friend Georgette. These books that I had thought no one else had ever read? Apparently, not such a secret. And the biggest surprise? OH MY GOD THERE ARE MORE OF THEM! I nearly died of happiness, and spent that first summer back in the suburbs of Chicago reading my way through the Heyer shelves of the Wheaton Public Library, rediscovering my old favorites and reading the ones I didn't know existed.  I even read the historical novels and one or two of her mysteries.  But the ones I read over and over again will probably always be my favorites.  They are the books I re-read when I'm sick, or depressed, or just in need of a comfort read.
Here are my personal favorites: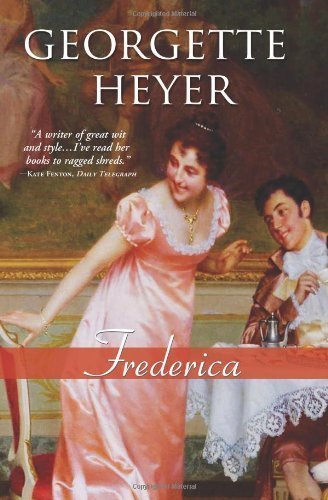 Frederica

This is the one I have probably re-read the most. Every time, I am charmed by Frederica and her single-minded efforts to find a husband for her gorgeous sister Charis.  She is of course, too old at 24 to be thinking of marriage. Tell that to the Marquis of Alverstoke, a noble sort-of-not-quite relation who gets pulled into the madness of Frederica and her whole family, including a huge hound of dubious pedigree called Lufra.
    Venetia

A basic "reform the rake" plot, but Heyer did it first and with exquisite style. Venetia is a country girl and another heroine considered "on the shelf" at 25.  She lives a quiet life with her academically inclined brother until the most notorious womanizer in England (otherwise known as her next-door-neighbor Lord Damerel) comes into her life. I love that Damerel tries really hard not to seduce Venetia, because he actually likes and respects her. So many regency authors ripped this one off wholesale.
    The Grand Sophy

Having a heroine who tries to control everyone around her has been done by Jane Austen in Emma, but frankly, Heyer's version is funnier. Sophy does try to manage everyone when she comes to London to stay with the Rivenhalls. But it's for their own good. Charles Rivenhall is the head of the family (and Sophy's first cousin, which I try not to think about), and he spends so much of the books infuriated with Sophy that he hardly notices that he's fallen in love with her. So many great characters in this one. It was one of the Heyer's my mother didn't own, so you know it had to be amazingly good to crack the top 5.
   Arabella

Arabella differs from a lot of my other favorite Heyer heroines in that she actually IS looking for a husband.  But when she gets accused (unfairly) of being a fortune-hunter she impetuously lies her ass off and says that she is an heiress herself. She gets a lot of attention after that, but she really just wants confirmed bachelor Robert Beaumaris.  This has another great dog in it, by the way.
    Cotillion

Kitty Charing is due to inherit a huge fortune, but only if she marries one of her cousins (seriously with the cousin-marrying, Georgette!). She's got her eye on the dishiest of her cousins, Jack, but he is a rakish rake and doesn't seem too interested. To make him jealous, Kitty convinces cousin Freddy to pose as her fiance. You know what happens. I love Freddy. He's just so amiable.
   Devil's Cub

A sequel to one of Heyer's other Georgian (pre-Regency) novels These Old Shades, this has a pretty ridiculous plot. Mary Challoner is desperate to save her idiotic (but beautiful) sister from running away to Paris to become the mistress of the Marquis of Vidal. Her solution? She decides to take her sister's place of course.  Vidal is a bad man.  No, really.  He kills someone at the beginning of the book and seems pretty determined to rape Mary when he discovers her trick.  BUT. You will love him by the end. I promise.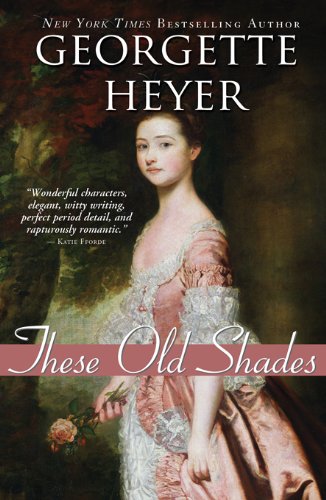 These Old Shades

Although I tend to gravitate to the lighter, funnier Heyers, this was one of the first of hers that I read and I still love it.  It's got another brutal hero, the Duke of Avon, who is bent on revenge.  The tool to get back at his enemy falls into his lap in the form of young french urchin Leonie.  She is disguised as a boy when they meet, but Avon sees through all that. It's a bit of a tortured plot, but I kind of love it anyway. Mostly for Avon. Le sigh!
   A Civil Contract

I will admit that this one did not appeal as much to my girlish heart, but it has grown on me. Although this is a story of a man and a woman and an engagement and a marriage, this is less romantic than her other books. It is, however, Heyer's best exploration of the social strata of the period she wrote about so well. It's a marriage of convenience story, with Adam Deveril inheriting an impoverished viscounty. He had planned to marry the beautiful Julia whom he desperately loves, but in order to keep his family's holdings afloat he must instead marry a girl with money, and lots of it. He settles for Jenny Chawleigh, the daughter of a "cit" (a wealthy merchant) and much of the rest of the book is about his resigning himself to this fate. Adam's a bit of a drip, at times. But Jenny is wonderful. Of course she falls in love with Adam, but she also is good for Adam.  She is the woman he needs, not the shallow Julia. It's got a HEA, but one based on mutual respect and a quiet comfortable happiness, rather than the flash of irresistible passion. And it has one of Heyer's best extended casts of characters, giving the reader a real picture of the period.
Although those are my favorites, you really can't go wrong, so here are the rest, roughly in order of my re-reading preference.  If I didn't have a million things on my plate I would re-read them all again right now.
What's your favorite Heyer?