While the rest of the country is enjoying crisp fall days, colorful foliage, and excellent sleeping weather, Southern California had Santa Ana winds blowing through over the weekend. If you've never heard of the Santa Ana winds, they are supposed to drive people a little crazy.  Raymond Chandler has a typically awesome quote:
"There was a desert wind blowing that night. It was one of those hot dry Santa Ana's that come down through the mountain passes and curl your hair and make your nerves jump and your skin itch. On nights like that every booze party ends in a fight. Meek little wives feel the edge of the carving knife and study their husbands' necks. Anything can happen. "
Don't get me wrong, San Diego normally has picture perfect weather — sunny most every day with endless blue skies and temperatures that rarely get too hot or too cold.  But that means lots of places don't have air conditioning. The ocean is our air conditioner, generating cooling breezes that keep everything like the postcards promise.  I don't have air conditioning (hell, when we moved in there was also no heat, but apparently that's against the law). So on the few days of the year when those hot winds from the inland deserts blow over us, I have to just wallow in it and put myself in a desert frame of mind.  Here are some of the SF & Fantasy books that seem to have a Arabian Nights, desert heat vibe.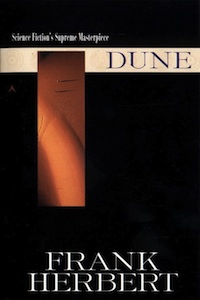 Dune
by Frank Herbert
What I love about Dune is that it has all the great scope of space opera, with galaxy-spanning empires and interstellar politics.  But it also reads like a grand planetary fantasy, with vivid descriptions of the planet Arrakis and its people.  The novel also has a touch of magic and a young hero with a huge messianic destiny, something you more often find in fantasy.  But the thing I always remember (besides the Bene Gesserit pain box thingie) is the desert planet Arrakis, with its hostile landscape and harsh beauty. Oh and the sandworms — those scared the crap out of me!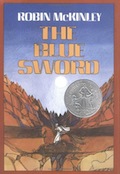 The Blue Sword
by Robin McKinley
This is one of those books that I find it hard to talk about I love it so much. Classic girl-hero fantasy, it features tomboy orphan Harry (really Angharad) Crewe, who crosses the ocean to Daria after her father dies in order to be near her older brother in the army. He is stationed at the edge of the Damarian desert, and Harry is kidnapped from the fort by the exiled king of Damar who senses she has a part to play in the destiny of his people. It's all very Kipling-esque, but with magic and battles and romance. A book for teens that stands up well when re-read as an adult. Love. If you like this, you should also read the prequel The Hero and the Crown
.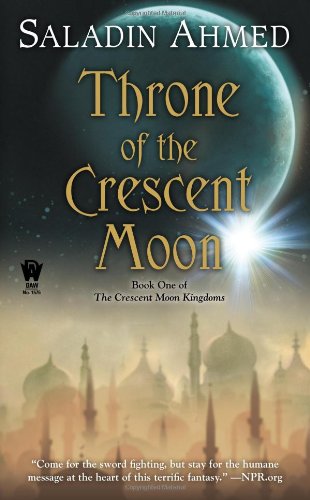 Throne of the Crescent Moon
by Saladin Ahmed
Arabian Nights and Sword and Sorcery (one of my favorite fantasy subgenres) combine beautifully in this debut novel that floored me with its imaginative vision when I first read it a few years ago. Ghul hunter Adoulla Makhslood dedicated his life to protecting his city from abominations that prey on it's citizens, but he tires of the struggle. He is drawn unwittingly into a power struggle between the merciless Khalif and the Falcon Prince, a rebel looking to take the throne of Dhamsawaat. The Arabic-favored world he builds, especially the city of Dhamsawaat is a character itself – perhaps the best one.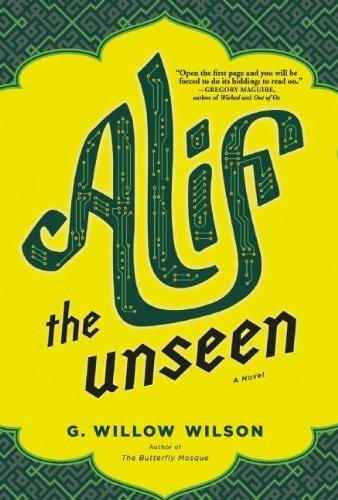 Alif the Unseen
by G. Willow Wilson
Blending the pulse of a thriller with elements of the fantastic, all set in an unnamed oppressive Muslim country, Wilson introduces hacker "Alif", a young man who gets caught up in a high stakes conflict between the countries hacking community and the brutal state security led by the mysterious "Hand of God". Forced on the run into the desert after being given the only existing copy of a mystical text called the Alf Yeom (The Book of a Thousand Days) which may hold the key to a new kind of computer coding, he find allies in his devout neighbor Dina, an ancient jinn known as Vikram the Vampire, an American convert, and a hacker prince who is 26th in line for the throne. This one is a lot of fun.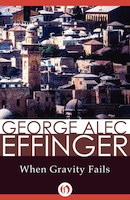 When Gravity Fails (Budayeen, Book 1)
 by George Alec Effinger
Hackers in the desert also made me think of one of my favorite cyberpunk novels of the 1980s, set in an unnamed middle eastern-ish city. Set almost enitrely in the Arab ghetto called the Budayeen, populated by prostitutes, drug dealers and criminals of eveyr stripe, Marid Audran is surprised to be the target of assassination.  Not because he doesn't have enemies, of course.  But he tries to stay off the radar and out of the black books of the city's crime lords, until one of them hires Audran to catch a serial killer. Violent and dark and full of tech that manages to still seem pretty cool 30 years after it was written.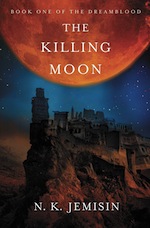 The Killing Moon (Dreamblood, Book 1)
by N. K. Jemisin
My first and best reaction to this book is two word: ninja priests!  In the city-state of Gujaareh priests of the dream-goddess Hananja called Gatherers are responsible for harvesting the dreams of the citizens, providing peace to the dying, and bringing death to those deemed to be corrupt.  Ehiru is an experienced Gatherer, but a job goes wrong, leading him to discover that something is murdering dreamers in Gujaareh. This is the first book in a duology (the second is The Shadowed Sun
) and features the amazing worldbuilding that Jemisin has become known for, in this case a fascinating city that is reminiscent of ancient Egypt.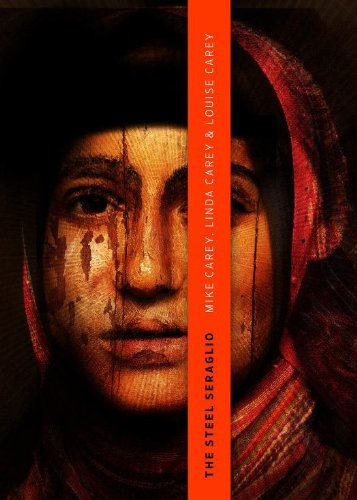 The Steel Seraglio
by Mike, Linda and Louise Carey
This is a book that sailed beneath every radar, but which landed in my lap when it was nominated for an award that I helped judge.  And I am so glad I read it.  Lots of books in the list have more than a whiff of the Arabian Nights, but what could have been an Arabian Nights pastiche ended up being an utterly immersive tale told in linked stories about a harem of women who escape certain death and become warriors to take back their desert city. This should be read by far more people than will probably discover it, but give this feminine fable a chance. It reminded me weirdly of the Fafhrd and the Gray Mouser stories by Fritz Leiber (the uninitiated should really read Ill Met in Lankhmar
), but with kick-ass women.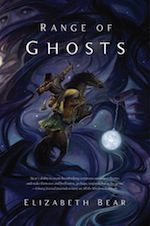 Range of Ghosts (The Eternal Sky, Book 1)
by Elizabeth Bear
Like most of the other novels featured here, this one gets huge bonus points for giving readers a setting different from the medieval Europe we've all read to death.  Bear's fantastic worldbuilding starts with a sort of Gobi Desert, horse warrior setting.  Temur is heir to the Khaganate, and the story starts with him stumbling off a bloody battlefield where nearly all his relatives died as they fought each other to rule the empire.  Forced to become a refugee, Temur meets and falls for a young woman of the tribes who is taken by blood ghosts. He vows to get her back, helped by an exiled wizard princess and a tiger-woman.  This whole series is amazing, with exotic settings galore and characters that have real depth.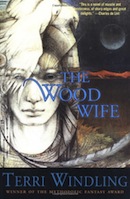 The Wood Wife
by Terri Windling
Bringing things back to a deserts where my current heat originated, this story of art and magic in the Southwest was a huge favorite of mine when I read it almost 20 years ago. Maggie Black unexpectedly inherits the home of poet Davis Cooper in the desert outside Tucson and moves there to live quietly and write Cooper's biography. Seduced by the beauty of the desert and determined to find out how her friend died, Maggie encounters trickers gods and native spirits occupy the canyons she now calls home. More known as an anthologist, Windling is a beautiful writer in her own right.